Breakfast Corncakes
posted in Food on January 24, 2005
The main inspiration for these was realizing my body's taken a sudden violent dislike to wheat: fun! I'm sure you can substitute any sort of flour to complement the cornmeal, but brown rice flour is actually quite tasty, if not a bit more expensive than the ol' wheat standby. I only recently experimented with making these vegan (substituting psyllium for egg), so it may be tweaked a bit as I continue to eat them EVERY GODDAMN MORNING, fine-tuning my flatcake masterpiece. The recipe's for 2 people, double if you need more.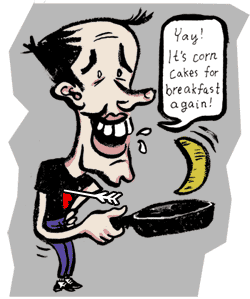 1/2 cup cornmeal or masa flour
1/2 cup brown rice flour
1 tbsp baking powder
1/4 tsp salt
1/4 tsp vanilla
1-1/4 cup soy milk
2 tbsp cup oil
2 tbsp cup honey
1 egg (or 1 tbsp psyllium husk+2 tbsp wa-wa)
Mix dry. Mix Wet. Bring them to a loving harmony, but don't overmix fool! Fry in oil on very hot cast iron! Eat with maple syrup!
Don't be afraid kids. I swear I'm not trying to poison you. The fact that you're reading a recipe on a website called brainfag shouldn't frighten you in the least. Go ahead. Whip it up. There's nothing to worry about.