Dreaming, sort of
posted in Home Jabber on October 05, 2005
This weekend was the second Stumptown Comics Fest which was a rousing success. Ezra and his girlfriend Heather stayed at our place while visiting from Chicago, which was a blast. Aaron was also in town from New York for a booksigning on Friday at Reading Frenzy. Man, I miss having Ezra, Alec and Aaron in town.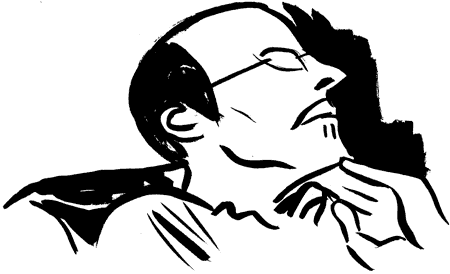 We had a great time taking over Bush Gardens for a Sunday night karaoke fest with a ton of cartoonists from the convention, including Craig Thompson, John Pham, Jason Shiga (who sadly got booted because he didn't have ID), Aaron, Ezra, and a slew of others -- enough to fill the upper half of the bar. I even found the courage to do a rendition of King of the Road, my second foray into karaokedom, mostly likely because it felt like a private karaoke room instead of a bar of random strangers.
There was also a comic art battle after the Stumptown fest, organized and emceed by Ezra, who pitted girls against boys for this round. The girls kicked ass. I unfortunately had to back out of the battle (the first I've missed!) because I wasn't feeling too well.
Swamp monsters are still a-brewin in my bean. I bought a new sketchbook and have been jotting down ideas a lot. Talking with Jake yesterday, I started thinking more about non-linear brainstorming ideas, as he was talking about making this crazy set of cards of all shapes and colors for a randomization of the creativity process. It got me to thinking about how I have been too obsessed with the one-dimensional final product frame of mind, and how I should consider the earliest stages of creativity just as important as all the rest. And as fun -- brainstorming has always been a lot of fun for me. Over the years, I've just become too obsessed with endproducts.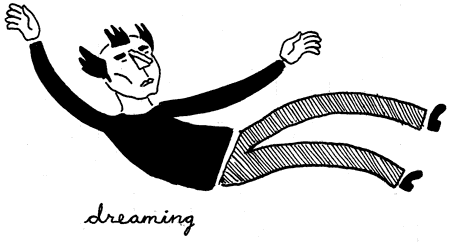 Another inspiration was to stop worrying about making too much sense, which is always a concern of mine. I typically don't like creative output that doesn't make sense, or at least SOME sense, because it seems to be a result of a lack of discipline. And hard to relate to. And therefore ineffective for (to?) the viewer. BUT we recently watched 2046, Wong Kar Wai's latest film, and although it didn't make too much sense, it affected me a lot. It made me reconsider this stance.
So, I'm on the hunt for inspirational games, processes, ideas for tricking my brain into being creative. Any suggestions? I've heard a lot about Brian Eno's various creative processes which sound intriguing, and I've even found an OSX app that digitized his Oblique Strategies card deck. From an interview with Brian Eno in 1980:
The Oblique Strategies evolved from me being in a number of working situations when the panic of the situation - particularly in studios - tended to make me quickly forget that there were others ways of working and that there were tangential ways of attacking problems that were in many senses more interesting than the direct head-on approach.
It makes sense I would be not only inspired by Brian Eno's music, but by his strategies to achieve that music. Jake said his Oblique Strategies technique had flaws in that the cards were all homogenous in shape and color, and therefore not as random as could be, but since I'm accessing it via my computer, I guess that is a moot point.
I've heard of other, more comic-oriented brainstorm, lateral processes, some from Scott McCloud, but again, I'm not able to find many by way of Google.