R.I.P. Brainfag?
posted in Home Jabber on March 21, 2004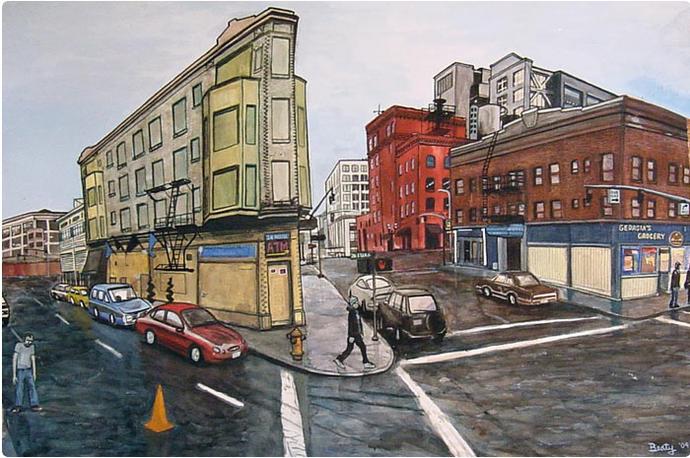 Is it just me, or am I *always* working on a project that requires me to completely recede from relaxing social interaction? If it's not a website that had to be done 4 months ago, which sucks my zit-popping face into the LCD for 14 hours a day, it's an art show that I've known about for a year, but put off until two weeks before, where I put my zit-popping face into the paper for 6 hours a day. (Computers are for some reason much easier to spend hours and hours on uninterrupted, probably due to the fact that they are devices of satan.)
Above is a detail of the foofy frickin watercolor I've been smearing zit juice on. I would LIKE to do a nighttime scene, but hells bells I don't want to spend 16 hours spreading BLACK WATERCOLOR PAINT. Bah!
Anyway, it's going to be up all of April at the Fresh Pot on Mississippi, as if anyone who's been within five feet of me in the last month didn't know. (Who I assume make up a large percentage of my .. readers? Are there people out there?)
On the geek tip, I put up an early version of Clixel, so I can bombard all of my clients' sites with a logo, damnit, and people will come to CLIXEL and want to hire my ass, because they won't be OFFENDED by that saucy title that ironchains me to obscurity & lack of commercial success: BRAIN-FAG. It's actually time to move, on, folks, and let brainfag become solely my indie comic, reserved for violent cynical seizures in which I don't have to worry about upsetting the average, pansy-ass, beef-bloated American. This might mean Dostuff.org will be getting some serious attention soon, since brainfag will cease to be my main contact. Clixel will also be fancified in the coming weeks.
*sigh* It's like smothering your favorite child with a dirty censorship pillow. How sad.