Plugs From the Deep
posted in Home Jabber on March 10, 2005
I already mentioned this once, but I thought I'd plug it again: the book I've been reading, The Fortress of Solitude, is really damn good, and Powell's has it on sale for eight bucks. OK, plug over.
The above, beyond-the-deeepend-colorblind-and-i-dont-care, illustration du jour, is of my burgeoning artist-fiend nephew and niece, Aaron and Hannah. (And... the award for the sentence of the year goes to---) I did a recent whirlwind visit to my brother's in Bend with my mom, Krautqueen Extraordinaire, and got to witness the tailend of a basketball game featuring nephew Aaron.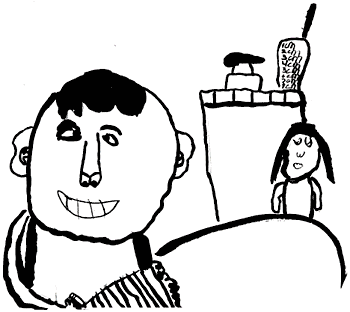 It's so fricking beautiful out it hurts. Hurts to sit inside and work. So outside I go.
Two weeks on the move-to-Portland countdown.
At right is nephew Aaron's version of the above illustration. The kid's damn good. I just noticed his 1cm, 2cm, 3cm on the measuring cup -- how rad is that?
The 2005 edition of the Portland Zine Symposium website is live. I'm as happy as a geek in a mudpit with how the new version of my msgboard turned out on the site. Too bad that it still barely gets any use.