MoCCA ate our table!
posted in Home Jabber on June 02, 2005
Even though Alec sent in his deposit for our MoCCA table in DECEMBER, and received an email from the director, including confirmation that his registration "logged", they now claim they have no record of Alec's form or $120 check and are not offering a table. Cool, huh? Especially since my family forked over $250 to fly me to New York to go the fricking event.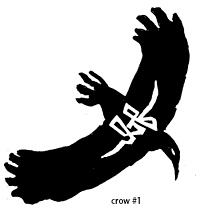 We still plan on attending and having a good time, meeting cartoonists, trading our asses off, maybe even putting together a "How MoCCA Fucked Us in the Ass" pamphlet (haha) (hoho) -- and of course, lots of New York exloring during the week I'm there outside the weekend of the event. So, not a total disaster. It's just LAME how they've handled the whole situation, not even returning emails to Alec for MONTHS and disregarding the email records Alec has from the director saying they received his registration.
Whatever.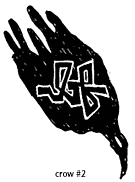 I'm gonna try and print up some t-shirts tomorrow using one of the crow designs here. I've spent way too long waiting to print new Brainfag shirts. I also still have to endure a few hours at the xcopy shop to make some ungodly number of Brainfags to swarm the unsuspecting MoCCA crowd.
I'm sure it'll be a hit. Brainfag's always a hit. Bwaha!
So, anybody care to vote on one crow or the other? I'm having a hard time deciding.