I give up
posted in Home Jabber on May 26, 2005
Old lesson learned anew: leave shit alone. I decided to reorganize the attic space, moving my PC across the room, and failed to realize my external 200gb drive was attached. After falling maybe TWELVE inches, it instantly started gurgling like a repeating Kraftwerk hook. Not good. I lost all the scans of drawings I've done since moving to Astoria, along with the 100 pages of Brainfag 9, which had a LOT of corrections and adjustments. I haven't fully realized what I've lost yet, and really don't want to think about it. Although losing seasons 4 through 7 of Buffy the Vampire Slayer hasn't bothered me yet.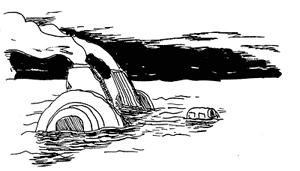 I also wasted a good two or three days installing Tiger, the new version of OS X, on my laptop, only to find it riddled with little bugs and annoyances. Further conviction that I should just leave well enough alone.
Turns out it's just impossible to do the things I wanted to do for MoCCA. Well, not impossible. I'm just not strong enough. Not focused enough. And there was just no way I could keep working on my web projects while drawing 6 hours a day while hanging out with Soon Bok while printing old issues, etc, etc. I do hope to finish Brainfag 6.3 and put together the bunch as a single issue. I have no idea where it's going at this point.. my brain has offered really strange and nonsensical pages to draw, such as: train leaving city, train in snow in country, jumbled train & semis & industrial complex, man emerging from sidewalk, man floating, man wrapped in black thread by flying bugs without feet, then dropped from above a bridge, then more underwater scenes. Huh? Am I oil to the water of linear storytelling? Jesus.
I guess it's pretty obvious at this point, but I changed Brainfag. I'd been putzing around with this undesign for a while, and was getting really sick of looking at my old design. It's almost minimalistic to a fault, but goddamnit, it's clean, and it only focuses on the art & photos. Speaking of, I fixed a LOT of the color illustrations, making them larger and of better quality.
Non-Mac-geeks can disperse at this point..
Like many others, I am ambivalent about Tiger. The coolest thing for me so far is Spotlight's ability to search text fields in Photoshop documents, even from the File Open dialogue. I save tons of mockups on all of my websites, and often don't title them accordingly, so when I need to quickly find the "Post a Comment" button which is buried in the buyButton.psd file, Spotlight finds it for me. Thanks, Spotlight!
I still find myself using Butler for most of the ctrl-space, type-an-abbreviation tasks, such as opening applications, finding phone numbers, quickly opening a System Preferences section, etc -- Spotlight proves too slow and unfocused for a lot tasks. But for searching for documents, Spotlight is pretty damn amazing, especially since it's integrated into the Finder and Mail.
And the rest of the "200 improvements"? Dashboard is pretty useless except for making my girlfriend sigh with pity as I say "look! look! it floats onto the screen!" I never use it. The fact that I have to select my wireless connection upon waking every time is really irritating, and I can't seem to fix it (Fix Here). My Powerbook has recently taken to freezing frequently, and then beeping three times (making my blood run cold) when I try to start it up (which, I learned may be from the 10.3.9 update KILLING YOUR LOWER RAM SLOT! aaaagh! my friend Scott's Powerbook now has a dead slot on the bottom. Coincidence??)
Fuck it's hot here in Portland. I'd kill for a motorcycle right now.