Black Bean Burgers
posted in Food on June 28, 2005
It's funny that I'm putting this recipe up. I wrote a very similar recipe in my one-issue magazine called Funk Magnet in 1998, in a section called Scraping the Lowbudget Foodbarrel (I was into glomming words then), which was supposed to be in the Zine Anthology that year. I also liked to glom random food ingredients back then. This is a much simpler recipe, which I use canned beans in -- something my 23-year-old self would have scoffed at.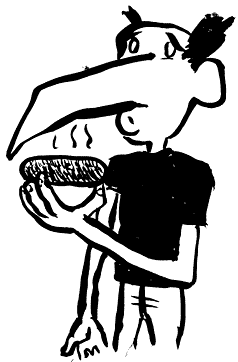 1 12oz Can Black Beans (or 1-1/2 cups cooked yourself)
1 chopped & boiled potato (any sort, soft enough to mash)
1/2 yellow onion, minced
1-2 cloves garlic, minced
2T chopped cilantro
juice of 1 lime
1T cumin
cayenne to taste
1tsp salt
dash o pepper
about 1/3 cup cornmeal (enough to form patties)
1/2 jalapeno (optional)
1 ear of corn cooked & shaved (optional)
Mash up the beans and potato (hopefully with a masher). Add the rest of the ingredients and mash together with your HANDS! Yes, squish it together! Oooh, sensual goo. Form into patties of desired size and fry em up in plenty of olive oil until crispy.
The pattie mix will keep well in the fridge for about a week. And no, that's not a hot turd I'm holding in the drawing, it's a BURGER.