Salsa that people eat
posted in Food on June 28, 2005
If you can find good tomatoes that don't require you to leave your left arm, soul and firstborn at the checkout stand, they definitely improve the freshness of the salsa. It's also best if you let the salsa sit for a few hours to blend the flavors. I can never do it, but maybe you can.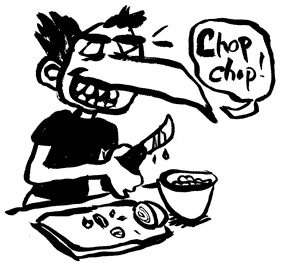 2-3 ripe tomatoes, artistically chopped
or 1 16oz can of ORGANIC tomatoes, cheapass!
half-bunch of scallions, chopped with glee
buttload of cilantro (say, 1/3 cup?) coarsely chopped
1/4 onion, deliciously diced
1 clove garlic, minced
1 jalapeno, manically minced (rub your eyes immediately after chopping)
juice from 1 lime
or 1T apple cider vinegar
1tsp sugar if tomatoes aren't so hot
1tsp cumin
1tsp salt (or to taste)
dash o pepper
my mom likes to add meat from 1 mango
Chop, combine, let sit (or not, wuss), and eat! Don't forget to rub your friends' eyes also after chopping that jalapeno!