Minimum Report
posted in Home Jabber on August 02, 2005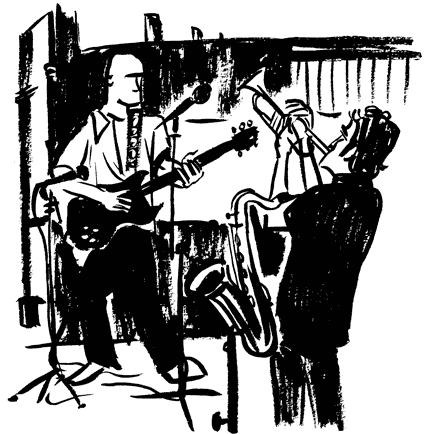 Oh man, what to report? Don't feel like I have much to say lately. This last month has been a focused workfest as I hope to drop from the all-too-stocked ranks of Americans in Credit Card Debt. I've also been feeling the urge to purge again. So.. much.. stuff.. However, I've gotten a bit of work, and will be doing another triptych of big ol' Portland cityscape watercolors for Tres, so the purge (with eBay's help, of course) can wait a while.
The drawing above is our friend Pete (Botch) playing with friends at the County Cork. I've been wanting to see him play for some time. I was a little disappointed as he promised he was going to play the trumpet, sax and bass guitar simultaneously with multiple orifices. Instead he just played them singly like a standard human. He did, however, play exceptionally well with his dedicated orifice (and accompanying limbs).
Soon Bok leaves for her month+ trip to Korea in two weeks. It's all of a sudden too soon, and too real. I'm gonna miss her badly -- better stock up on international phone cards.
Summer is a good time to remember to just not-think and lay in the sun and watch trees lazily sway. I've had a few good moments where everything just disappears. Very relaxing.