How I was tricked into watching The Island
posted in Movies and TV on August 13, 2005
I haven't sat through such a piece of shit movie in a long time. And never before have I seen such a large budget and pool of good actors put to such a waste. Also I think an award for the most recycled themes in a movie is in order. The Island plays like a 2 hour commercial with a slew of obvious product placements and quick cuts, with a generically anthemic score (helicopters? cue bad guitar.. sci-fi? cue techno-muzac.. chase? techno-spastic..), and a godfearingly boring futuristic world where everyone looks like a Maxim model.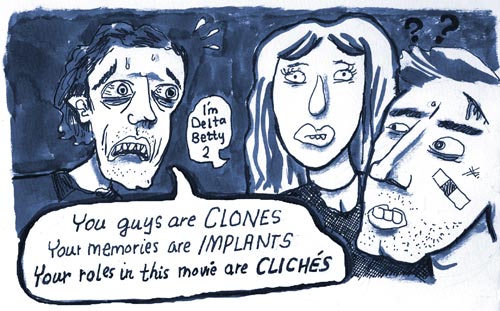 The only reason I found myself watching a matinee of this miserable waste of plastic was a flattering review by Erik Henriksen. This movie was so painful to watch, I found myself yelling at the screen, which I haven't done since I suffered through Planet of the Apes, which at least I had a large quantity of snuck-in alcohol to help me survive through.
I always wonder how actors I enjoy end up in these sort of movies. It just has to be a brainless good time with fantastic cast parties followed by a gigantic check. Why else would you associate yourself with a Michael Bay movie? I mean, Steve Buscemi? I know he takes roles to pay the rent. I recently watched the special features of Living in Oblivion (a movie with a thousand times the heart and about a thousandth of the budget), and he said as much in an interview.
Anyway, what else to say? It's awful. Minority Report, Brave New World, Logan's Run, and countless other sci-fi movies and books smooshed into one big Michael Bay bowel movement. Please don't go see it.