The Great DESTROY BRAINFAG Challenge!
posted in Home Jabber on March 30, 2006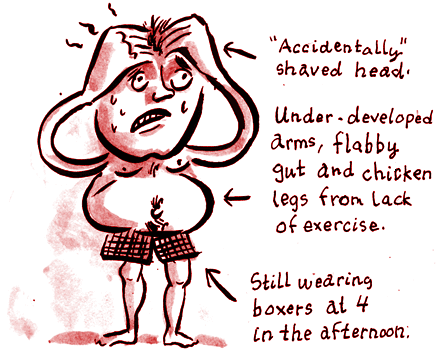 Panic mode!
It's reached that time again. My head is immersed in finishing my comic, things get forgotten like eating, urinating, working, etc. Caffeine like a moldy, well-used crutch braced up against my brain. Headphones blaring, junkyard of plates and glasses scattered around my desk, legs numb from sitting for hours, etc.
I've been showing my issue-in-the-works to those who'll look at it. Very odd for me. Especially since I get totally offended if they don't like it, haha. I think my creative process would best be described:
Hash out a slew of scatterbrained crap. Slowly make it better.
Therefore, I hate it when people see things of mine in-the-works. It always looks AWFUL to me until I get about 90% done, take a look at what I've spilled, and then try to fix it. No matter what I do. Bike repair, comic-drawing, speakerfoam replacing, vacuuming, cookie baking: GO AWAY! I'M NOT DONE YET! YOU'LL SPOIL IT! And here I am, handing out my half-baked cookies.
Brett gave the advice that I should focus on what I want to COMMUNICATE rather than how to draw it. Or at least, that's what I got out of it. Like, "OK NATE, you've practiced enough, your drawing skills are adequate, now write the fucking STORY, ok?" I am sad to report that I'm STILL not there with Brainfag 10. But I learned a lot, and that's why I draw Brainfag. It's always a learning experience..
At the center of this transformative process, I have the leathery-skinned mummy of a unlikeable title wrapped around my comics. Ok, not wholly unlikeable. But the word brings about the most ambivalence I've ever seen in people. And because of this, I hereby propose:
Free T-Shirt, every stinkin' issue of Brainfag, and a complimentary drawing to the person who can come up with a new, improved moniker for Nate Beaty Comics.
No, really, I'm serious! I need help! I don't want this issue to be called Brainfag damnit! (And "Nate Beaty Comics" rolls off the tongue like a mouthful of concrete.)
(Somewhat of a sidenote, but I was just listening to This American Life's "Edge of Sanity" episode (01/97), with a story where people who heard voices made a recording of a simulation of what it's like. And it freaked me out so much I had to immediately turn it off and listen to the music I was listening to before. It made me feel kind of guilty (?) and made me realize THAT'S how many people feel when they encounter those "weird things" outside the microwave dinners and daily television -- such as a comic called BRAINFAG -- the reaction to which is BACK TO SAFETY! QUICK! IGNORE THAT WEIRD THING!)
I'm now back to my normal weight of 135 (I was 120 at xmas), and have to cut off my high-protein, high-fat, meat and eggs and cheese diet. I have to say, it's a lot of fun gaining 15 pounds in a few months. I freakin love food, which is why I'm always confused when Alec denounces the act as the Ultimate Bother.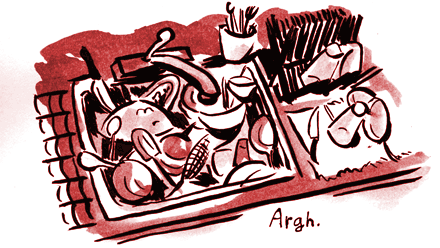 I find it odd that eating more meat than I did in highschool (almost 15 years ago!) has (temporarily?) healed me of a chronic intestinal illness. At least put it in remission and hopefully on the tracks towards healing it permanently. In the meantime, I am motherfucking craving chocolate chip cookies. Grr.
While in Boise, I heard a lot of girls talking how they're watching their weight. It's just not something I'm around a lot; my friends spend much more time figuring out how to get the next six-pack of beer rather than sharing their Weight Watcher points for the day. One of Soon Bok's cousins interrogated us over every article of food we touched.. "Is that healthy? How many calories in it? How is an egg "organic"? How did you make this? What's in it? Why? I want the recipe!" et cetera. I admire the curiosity, but went a bit batty trying to answer everything. Truthfully I've retraced many of my steps from being a pyschotic label-reader and healthnut. Largely from the fact that I believe my mostly vegan diet contributed to my being sick. Not that I've hopped over to the "vegan fags are sick and stink" camp -- no, not nearly. I've just lowered my hatred of meat products (granted, I spend a small fortune buying "humane" meat) and everyone who stuffs their face with them.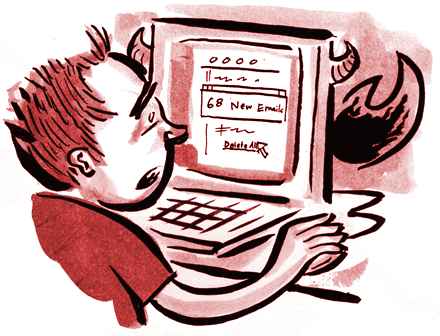 I talked to my godmother, Aunt Jane, today. I should call more often. She reminds me so much of my Grandma Cleo; the sound of her Texas drawl and quiet, heartfelt chuckle send me right back to childhood. Sitting in the covered patio sipping a delicious Diet Coke on ice, freshly toasted from a sun-baked swim in their above-ground pool, playing Skip-Bo or cribbage with my grandma. I had some fun summers as a kid visiting Snoqualmie. It was almost a magical place.
And I only feel like I caught the very tail end of that golden era of my family. Because it's been a rough five years in Wentzland. The latest of which was last night: my Aunt Donna was in the hospital getting a stint put in to open flow of blood to her heart. It's hell and wreckage getting old. Seeing these things (as well as the stress & mayhem of Boise) has made me really look at my life, and make sure the fuck I'm living how I want to live. Call it a pimple of my upcoming mid-life crisis. I still feel young and nearly invincible (save my guts getting absolutely effed the last few years), but I'm experiencing growing urges to do something crazy like get a gym membership.
Which brings me full circle to the previous thought on what I wanted to COMMUNICATE with my comics. Greg Beans (who just released Papercutter #2 on Tugboat Press, by the way, sporting some hot comics wrapped like steaming sausages with my maple-syrup-dripping endcovers, BWAHA!) said I should write the story of my dark past as a drug-addled lefty pinko. What frazzled my previously calculus-addled Straight-laced-JockoNerd Natty Nate self? Eh? Doesn't that rivet your shorts? Get your blood sprinkling? Juicy past, dirty details! I've thought of doing that before, but never got my act together. Could be fun.
Don't forget the big HELP NATE REPLACE THE BRAINFAG TITLE challenge posted above! I'm serious damnit!