Macbook Pro Ghetto Laptop Stand
posted in Geek Talk on June 04, 2006
In geniune Hacksaw Buasky style, I have crafted a butt-ugly, DIY laptop stand utilizing scrap wood, two old & crappy bicycle break pads, a cheap 90mm PC case fan, and a spare Radio Shack, multi-voltage AC adapter to cool my $1800 computer. By changing the output DC voltage on the AC adapter, you can achieve varying levels of fan speed and noise. The average operating temperature has dropped from around 65º to 50º at the lowest voltage setting (very light breeze from the fan and just about silent).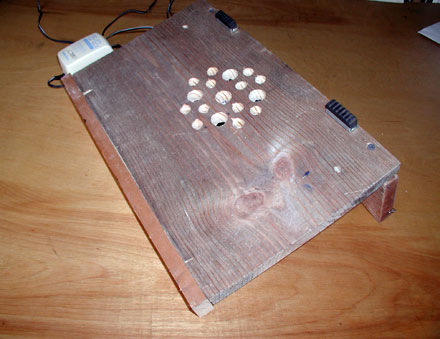 Note the beehive pattern dispersal on the vent-holes. Highly essential. I used 1" and 1/2" wood-boring bits with my cordless drill for this. To attach the brake pads on the top, I drilled shallow 1/4" holes and then threaded the pads into them. The rest is pretty self-explanatory, I believe. Cut wood. Attach with wood screws. Best to keep it as ugly as possible.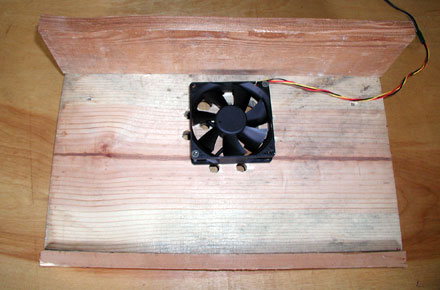 This crappy 90mm case fan should cost about $3. Mine personally came as a bribe to shut up about the fact that the local computer store traded me a non-functional $19 wifi card for a $7 Vantec silent 80mm case fan. I think I'll order online from now on.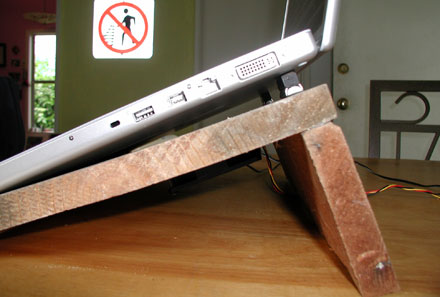 Note optimal airflow between case and ghetto stand.
Fantastic!