Hey Nate! Get to work, chump!
posted in Home Jabber on November 21, 2006
Yeah yeah yeah, back in the states, back to work! Holy crap I haven't been able to focus one iota since returning from Korea. A big part of this has been trying to get an office/studio space set up with Joseph. We landed a very nice studio on 28th & Alberta, but after a week of trying to suck just a tiny bit of the internet juice that flows all up and down the street without any success, I finally gave up. Picture me pointing our newly purchased Super Cantenna (found on eBay for $25 with free shipping, just about equal to the price of shipping all the connections to make my own Cantenna) this way and that way, hovering over kismet on my Powerbook 3400C running Xubuntu Linux, trying to decipher the wifi signals barely creeping up the wire. No luck! Add the fact that we can't use the bathroom in the space, and have to run out and bother a business or bike three blocks down to Joseph's house on 25th every time nature calls -- just not working.
But luck was somehow on our side. Joseph happens to live in a huge house with a vacant downstairs, currently mid-repairs and being used as storage (why they don't fix it up is beyond me, it's a beautiful space.) The landlord is super cool and said we could use a room if we cleaned it out. Hell yeah! Yay! Here's the before and after shots from flickr:
Before:
After:
Note also my new iMac 20" on the right there.. amazing computer, but again, Apple managed to ship a defective refurbished product. I am seriously losing faith in Apple hardware. After excitedly unpacking the gleaming white Apple-fauncy beast, I was greeted with fans screaming like a banshee. They soon slowed down to a dull roar. Applecare walked me through resetting the PRAM (or whatever they call it now), and when I powered up the computer it sounded like a fucking jumbo jet was landing on my desk. All six (!) seven (?!) fans were at full blast. "TURN IT OFF!" squeaked the Applecare "Genius" voice on the phone. It quieted back down to the dull roar, which now sounded reasonably quiet. Good trick, Apple! The rep told me "computers run hot, there's going to be fan noise," and hung up. Fuck that. This was a defective product.
I took the iMac and my problematic Macbook Pro down for repairs. The iMac miraculously healed itself after being in the shop for two days (I'm not making this up), and they called me to pick it up. "We ran tests, heard the problem, but before we could open it up, it just stopped. Haven't been able to make it do it since." OK... ? The problem hasn't returned so far, so who knows.
However, they've had my MBP in the shop for almost three weeks now, and are still waiting on parts to fix the logic board buzz and right speaker distortion. It's going right up on eBay as soon as I get it back.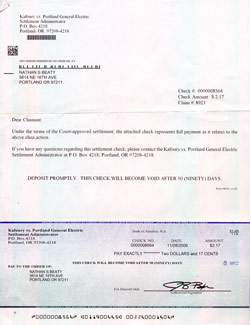 In other news, I finally did my civic duty as a liberal monkey and stuck it to the man! You know those ubiquitous letters you get where an irate party has decided to pursue a lawsuit against some corporate entity, and you just happen to be in the swath of the injured? And promises of sharing in the bounty if you just fill out these forms, and dig up when you were affected by whatever violation the corporation let slip? Maybe you don't know what I'm talking about. But I seem to have gotten more than a few of these; usually I just disregard them. This time, however, I went through the effort, and months later I am reaping the benefits. Check out my big fat check for $2.17! Take that, MAN!