Internet: the Great Public Domain Clip-art Gallery
posted in Home Jabber on December 08, 2006
Work indeed. Been mired in the computo-machine, coding away. I did squeeze in time to contribute to Reading Frenzy's 11th Annual Cheap Art Show, though I forgot to take a picture of the 4 lil' paintings I did. I did, however, scan one of the sketches for them. It was a series of couples warming up in wintertime, this one was a last minute addition: the fascist gay couple warming up with burning books.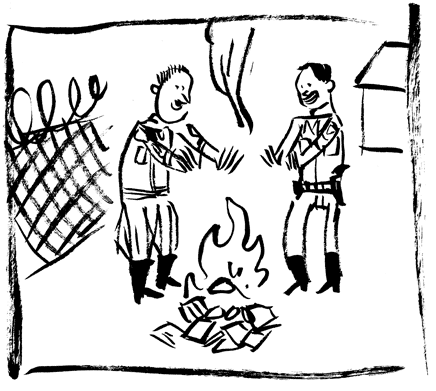 The office space I've been sharing with my friend Joseph has been working out fantastic. I love having a separation between home and work. I go home at night and FORGET ABOUT CODING. Fucking fantastic.
Perhaps this monumental change in my day-to-day existence has to do with my recent funk. Like things have to get worse before they get better? Maybe? I don't know what's come over me, but I've gone into that deadspace of human existence where you end up staring at the wall. For hours. Not wanting to move. Or eat. We can certainly cancel out our bigbrained, supermonkey ingenuity fast with senseless depression. Ah, modern life! You are so grand!
Willy tells me Faber and Faber picked up another novel of his, and he's pushing to have me do the cover. I'm excited to both read the novel and help out with the new cover design. I guess HarperCollins will be publishing the US edition of The Motel Life in early 2007. (In searching for who picked it up, I found an article in Reno News and Review which not only credited my art in The Motel Life to Willy, but colored my illustration without permission. Gak!)
Speaking of random use of my art, the book illustrations also showed up recently in the popular french magazine L'Express -- and although they did credit me, according to Willy they paid someone to use the art (they said it was me, but I've never even heard from em). Got me to thinking of how illustrators routinely get fucked as far as crediting and payment. I made $300 on that art (granted, this was paid before Willy even knew if the book would get published) -- and now I assume the publisher has complete rights to the art, and gets paid whenever it's used. And what do I get? Maybe some credit in the margins.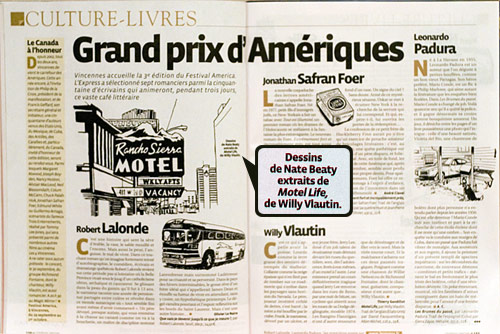 I also noticed a similar lack of respect for artists in the latest McSweeney's; the writers are listed in the table of contents and each get a bio in the back. The artists get tiny bylines under each page of art. Then of course when you see the book described, there's no mention of who did the illustrations, it's all about the writers. (I suddenly feel like I did as a kid bitching about the divide between skaters and bikers, even though that has just about nothing to do with this... ha.)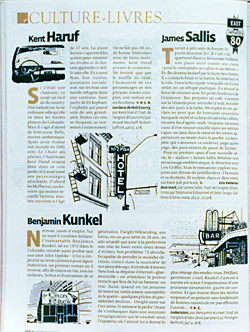 Typically I don't worry too much about these sorts of things. But my art gets routinely bastardized and/or used without permission, credit, OR notification of it's use. And every time I try to imagine the mindset of the person finding the art and just cutting and pasting it into their newspaper ad or blog entry. "COOL ART, I THINK I'LL USE IT." It's not clip art folks! That's my blood spilled on these pages damnit!
It's especially frustrating when it's increasingly important to get PAID for art, when it becomes more of my sustenance than it was when I was a young, carefree, caffeine-addled doodler washing dishes and pumping chlorine in the RV park swimming pool. I was just stoked to see my art printed anywhere at that point.
It's also odd how the web has changed people's perspective toward copyright issues. I honestly think most people believe that what's online is fair game to use wherever they like. It's become a gigantic clip art catalog for mindless plucking; it's definitely NOT the norm to be contacted before someone uses a photo or painting or drawing they found online.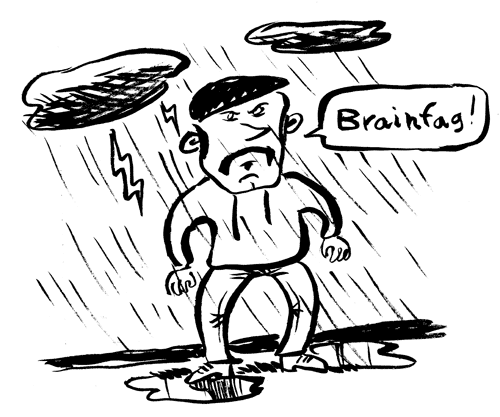 Whew. Didn't realize this was welling up inside of me. Might be the fact that I'm the most broke I've ever been, and all of a sudden I see people making considerably more money off my art than I do -- when I get $300 or $500 for illustrations involved with a project that pulls in $10,000-$50,000 for a publisher, or whatever amount -- I guess it starts to get to me, especially when I've been eating at the cheapo taqueria for the last two weeks, scraping by, digging myself into a financial hole while working my ass off.
UPDATE:
The article in Reno News and Review has been updated with my original art without coloring and now is credited properly.