why digicams STILL suck
posted in Home Jabber on January 24, 2008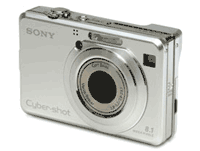 I recently decided to get an older Sony digicam to carry around in my backpack, instead of constantly lugging around my 5-pound Canon 20d DSLR. I ended up choosing a Sony DSC-W100 after reading it was fast to start up & shoot, not incredibly small but pocketable, supposedly good in low light, has full manual controls, and shoots macro and movies. A typical higher-end tinycam about a year old. Plus I was able to find it used on ebay for around $150, half the price I paid for my last lens.
When the package arrived, I excitedly unpacked it, charged the battery and loaded up a memory stick. I roamed around the house testing it out, and soon realized how spoiled I'd become since diving into the land of DSLR cameras with the ubiquitous Canon Digital Rebel XT two years ago. (I soon downgraded to a cheaper, used Digital Rebel/300d, and a year or so later, my current 20d.) I couldn't believe the difficulty in framing a shot with the Sony, and getting decent depth of field (sharp focus, blurry background) was near impossible -- after all these years, digicams STILL suck.
How about letting some pictures do the talking. This is a shot with the Sony DSC-W100 (in admittedly poor lighting) of an accordion I picked up in Mexico: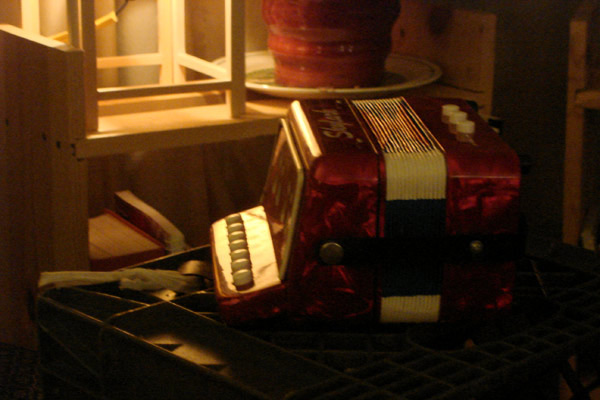 I mean, it's a dimly lit room, but this camera is supposed to be a good performer in low light. But not only is the noise out of control, the color is awful and it just feels flat and lifeless.
Now, a shot with my cheapo (yet indispensible) Canon 50mm f/1.8 on my 20d: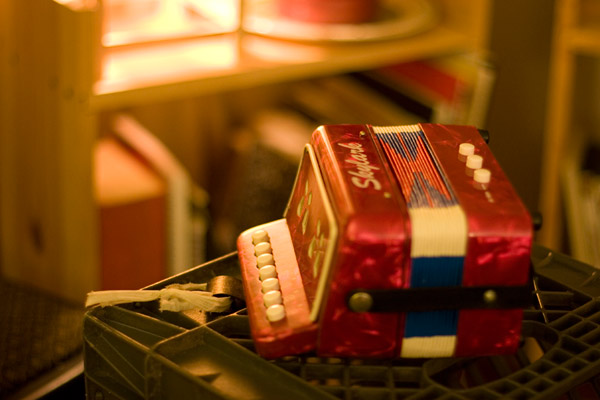 It's like candy for the eyes compared to that other piece of crap. I could likely fuss around with my digicam to try and get something comparable, but I guarantee it'd be a pain in the ass and tedious. The shot on the 20d was with the simplest of settings.
I've tried the digicam in lots of other situations, and it's just an exercise in frustration. I really think it comes down the tiny-ass sensor they equip these things with. No matter how fancy the camera is AROUND the sensor, it all comes down to sucking up light on a sensor that's 1/1.8" -- the size of your pinky fingernail. My 20d has a sensor nearly ten times this size, which helps you get more light more quickly, with less noise and a juicy depth of field. Which translates to much better pictures.
I was writing joseph robertson about my (not so unique) desire for a simple digicam, much like what I bought, but with a LARGE sensor. Even if it came with a fixed lens, like my 50mm, or even a 35mm equivalent, I would be in hog heaven. Small, black, metal, fast, simple walkaround camera, with a BIG sensor, damnit!
I'd gladly sacrifice all the useless features they cram in these things for a Holga-like simplicity. Well, maybe a Pentax K1000 simplicity. I just want to change ISO, shutter speed & aperture, and have a decent autofocus with good low-light performance.
Sigma is apparently developing a camera like this, the DP-1, but it's not very fast (not so good in low-light), and rumored to be quite expensive, and has been in development so long it's starting to feel like vaporware (vaporcam?) at this point.
All said, I realized there was one cool thing about the Sony -- it takes pretty damn nice videos. Here's a (somewhat-chewed up when converted to flv by Vimeo) video taken on Melrose: