MY TARZAN FATHER
posted in Home Jabber on November 02, 2003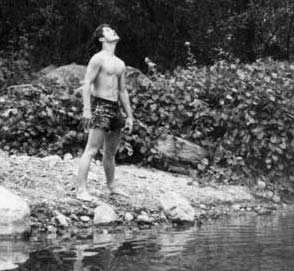 This photo of my dad, at age 23, was taken in Fall of 1971 in Tuolemne, CA, presumably by my mom.. My brother was one year old and I was four years from being born. My dad & I look a lot alike, but I think he's one up on the barbaric factor here.
I printed the first run of Brainfag #8 yesterday, which is available for ordering and viewing in the Comix section. I like how it turned out.. I made it quickly and it's refreshing compared to the carefully-wrought BF7. I did the same thing with Brainfag #3 & Brainfag #2.2 -- BF3 was months in the works and BF2.3 took 56 hours to make.
I also just put out the early version of redwingcoffee.com for my friend Rachel's recently opened cafe/coffee roaster shop. It's pretty simple, but I hope to improve it this month.
I'm also working on the E-Comix section of Top Shelf.. it should be up pretty soon.
It's really fucking cold out.