From BRAINFAG to SNOTRAG?
posted in Home Jabber on April 26, 2005
It looks like that just *might* be the final illustration for The Motel Life. I still want to non-walnut those weird cockroaches, if you know what I mean. And there's still the spine and back cover. I'll keep you posted, insatiable brainfagettes. Oh yes.
My friends Scott and Alex at Fitzcarraldo studios up the street are putting on a full-on PROM in their studio space in a few weeks. They're going so far as to rent a LIMO, paint their entire studio PINK, and build a BAR. Now it's up to rest of us to dress up like goons and try to ignore the traumatizing memories (if any) of highschool prom.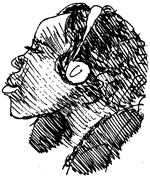 My mom just visited for the weekend. Made some homemade falafel & tzatziki & hummus, watched American Splendor, lounged around and read. A fitting productivity crash after the last week.
Talking with Soon Bok about what I'm thinking for my big book made me realize I'm not really elucidating my ideas, and that's why people are not really responding. I mention writing about being 17-19.. she originally thought I was just dwelling on the past, but when I explained that it's more about really dissecting what that time period MEANT, the changes I went through to transmogrify from the uncomfortably geeky & socially paranoid 13-yr-old, to the asshole streetdancing 16-yr-old, to the cheesy & art-inept & spirituality-obsessed (no, really) 19-yr-old.. and eventually into the witty, charming, talented, dapper 29-yr-old (haha!). Jesus it still sounds awful. But, no, there are some funny ass stories from my childhood.. and expanding on my traumatizing relationships around the end of highschool would definitely be entertaining.
I told Aaron I thought it was time I did my coming-of-age book, the Brainfag Blankets, if you will. We got a laugh out of that. Then started thinking of other words for blankets until we came up with Snot Rag (a stretch, yes) -- and I loved it until I later realized I'd be going from BRAINFAG to SNOTRAG. Is that an improvement?