TRANSFORMERS '86: official kvetch #1
posted in Movies and TV on December 24, 2006
I just got the strange urge to download the TRANSFORMERS MOVIE (the OLD one, that is, from 1986), which I'm not sure how I missed, but shit-o-dear, I'm glad I missed it. What the hell IS that thing? The absolute worst of '80s music meets the somewhat-cool-robot cartoon = (wait! .. just looked this up in IMDB, to get some perspective on public opinion on this tragedy, and saw "Some memorable quotes and decent soundtrack" and "Well worth a watch" -- both of which make me simultaneously nauseous and SHOCKED) equals, well, TRADEGY. All I can say is, coke and pot seemed to have utterly destroyed any remnant of good taste among a good portion of the media producers of the '80s. Because, this movie was AWFUL. Granted, it was gut-bustingly awful, but still: awful.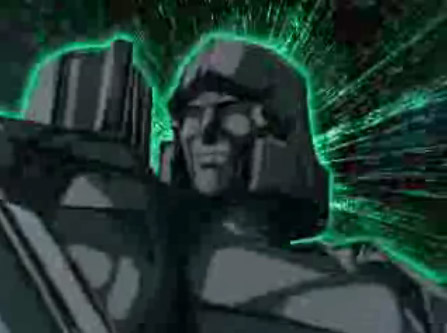 I was a total Transformers junkie, and Ezra sent me a link to the latest trailer for the upcoming (cough, hack, gag, vomit, etc) MICHAEL BAY adaptation of Transformers, coming out next year -- so I decided to download and make my way through the twenty-year-old animated gem that graces the most fantastically offensive soundtrack (described as "decent" in the above-quoted IMDB review). Granted, it is dark and randomly indecipherable and peppered with foul language -- but it's so goddamn bad I found myself grinding random pieces of wood with my oft-unused Dremel while it played on my TiBook and doing laundry and drinking more than usual in a weekend night. Jesus, what a piece of crap. I kept thinking "people spent umpteen hours of their life animating this garbage." That's not a good sign. Especially for a totally devoted fan (at least at an earlier age.)
I can't help but think that the upcoming movie will be bad, not only because it's associated with that piece-of-human-garbage Michael Bay (The Island, anyone?), but because from the previews, they're obviously taking it WAY TOO SERIOUSLY. I mean, c'mon people, this is a MOVIE ABOUT ROBOTS THAT TURN INTO CARS AND BOOMBOXES, and was developed in the '80s for teenage boys.
Then again, I was so moved by the original series that I was caught shoplifting crappy imitation Transformers from Payless in my hometown of Newport at age 13. That says something.
Prodigal Geektastic 4.0 GPA Son Caught Pocketing Go-Bots Rip-Off.
Perhaps that was the beginning of the end so they say. Perhaps I *did* see the original movie and was so affected that I blocked it from my memory, and was inspired to go out and get caught stealing a rip-off of a rip-off to kickstart my pseudo-criminal future. (My mom, working for the Sheriff's dept. at the time, was thoroughly embarrassed by the whole episode.) Not that I do anything criminal at the moment except blog protests against the monkey president.
ANYWAY, back to the terrible animated '80s-rock-movie: I'm assuming it's of no use to warn anyone away, because: who would rent it? No one. I know my 13-person readership. No one.
Back to your xmas frivolities! Retreat! Oh, and god bless.