Goodbye Cleo
posted in Home Jabber on February 26, 2004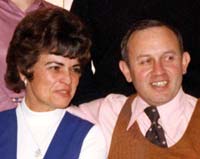 This past weekend I was a pallbearer at my grandma Cleo's funeral in Issaquah. It was an open casket, which was the first I'd experienced. At first I wasn't going to go see her during the viewing, but how can someone pass up an experience like that? As was expected, it didn't really look like her, and really creeped me out that she was laying there dead in a box right there in front of me. But I can definitely see the closure it would offer to many people. For me the closure was a slow, four year process as strokes and medication slowly changed her from the person I'd grown up with.
The services were incredibly emotional as my grandma was dearly loved by everybody who crossed her path. She really was an incredible person, full of positivity and humor. The most difficult thing was watching my grandpa, married for 55 years and suddenly a bachelor, living alone for the first time in his life, surrounded by a houseful of memories. I finally broke my ten year spell of not crying.
The Microcosm Publishing site is basically finished. If you're one of those strange creatures using Opera 7, it has some (as yet) unknown issue with my CSS. I'm beginning to abhor all browsers except Mozilla's Firefox and Apple's Safari, the only two browsers on the planet that let me do my work in peace. My foray into CSS-based design is beginning to make me hate computers again, wasting hours and hours trying to make the simplest things work across a broad spectrum of browser quirks. What a waste of time.
I have an art show in one month and I think I'm going to succumb to a panic attack any minute. Shrike 3.5 is basically done, but Jeremy managed to lay it out with 14 pages, which anyone in the (maga)zine know would see the not-divideable-by-four flaw in this page count.
I'm officially ready to put my computers in the closet and draw again.